Each time I'm deleting some code I'm thinking about the time and effort that was spent writing it.
Even if with modern tools and techniques code is easier and faster to write, each line removed still took some effort to be created.
And this effort is now no more.
I wanted a kind of memento mori, a shrine to remember the code that is now removed.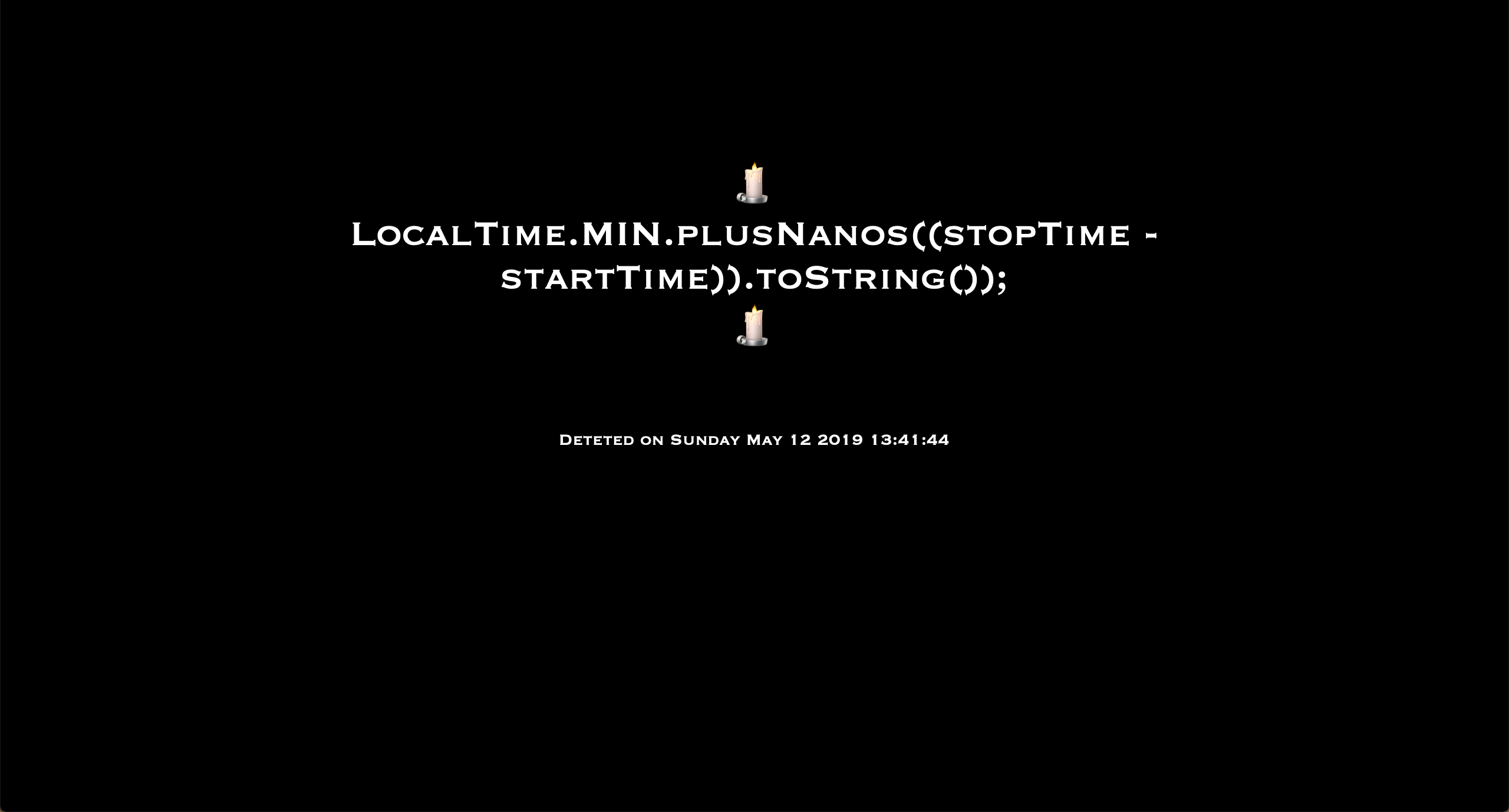 This simple script work on a git repository: each time you open the page it will fetch a randomly deleted line and will display it.
It requires Ruby and Rack.
PATH_TO_GIT_REPO

=

`

'path/to/your/git/dir`'

 memento.ru
Code is a single file, under MIT license, so have fun and ping me if you do something interesting with it.
memento.ru
unless

 

ENV

.

key?

 

`'PATH_TO_GIT_REPO`

'




  raise `'

Need

 

a

 

PATH_TO_GIT_REPO

 

env

 

parameter

`'




end





PATH_TO_GIT_REPO = ENV[`

'PATH_TO_GIT_REPO`'

]




STDOUT

 

<<

 

"Specified git repo dir is [

#{

PATH_TO_GIT_REPO

}

]

\n

"




STDOUT

 

<<

 

"Full git repo dir is [

#{

File

.

expand_path

(

PATH_TO_GIT_REPO

)

}

]

\n

"





unless

 

File

.

directory?

(

PATH_TO_GIT_REPO

)


  

raise

 

"Path [

#{

PATH_TO_GIT_REPO

}

] is not a directory"




end





check_git_repo

 

=

 

`git rev-parse --is-inside-work-tree --git-dir=

\"

#{

PATH_TO_GIT_REPO

}

\"

`




unless

 

check_git_repo

.

split

(

"

\n

"

)

[

0

]

 

==

 

`'true`

'




    raise "Path [

#{

PATH_TO_GIT_REPO

}

] does not seem to be a git repo"




end




STDOUT << "Dir is a git directory 

\\

o/

\n

"





Dir.chdir PATH_TO_GIT_REPO





# Identify lines that looks like a git line deletion




LINE_FILTERING_REGEX = /\A\-([^-])(.*)\z/





require `'

time

`'





class Memento





  def find_content




    number_of_commits = `

git

 

rev

-

list

 

--

count

 

MASTER

`.split("

\n

")[0].to_i




    commit_rank = rand(number_of_commits + 1)




    all_lines = `

git

 

log

 

-

p

 

--

skip

=

#{commit_rank} --max-count=1`.split("\n")


    

interesting_lines

 

=

 

all_lines

.

select

 

do

 

|

line

|


      

line

.

match

(

LINE_FILTERING_REGEX

)


    

end


    

if

 

interesting_lines

.

length

 

==

 

0


      

return

 

nil


    

end


    

line_index

 

=

 

rand

(

interesting_lines

.

length

)


    

# Remove the `'-`' at the beginning of the line


    

content

 

=

 

interesting_lines

[

line_index

][

1

..-

1

]


    

# Fetch the commit date


    

date_string

 

=

 
      

`git log --pretty=format:"%aI" --skip=

#{

commit_rank

}

 --max-count=1`

.


      

split

(

"

\n

"

)

[

0

]


    

date

 

=

 

Time

.

iso8601

(

date_string

)


    

{

content

:

 

content

,

 

date

:

 

date

}


  

end



  

def

 

call

(

env

)


    

# Loop until we find a result


    

until

((

result

 

=

 

find_content

))


    

end




formatted_result

 

=

 

<<-

HTML




<!DOCTYPE html>




<html lang="en">




  <head>




    <meta charset="utf-8">




    <title>Deleted code memorial</title>




    <style>




      body {




        background: black;




        color: white;




        text-align: center;




        font-family: Copperplate, "Copperplate Gothic Light", fantasy;




      }




      #gitContent {




        padding-top: 10%;




        padding-left: 20%;




        padding-right: 20%;




        padding-bottom: 5%;




        font-size: 36px;




      }




      #gitDate {




        font-size: 16px;




      }




    </style>




  </head>




  <body>




    <div id="gitContent">&#x1f56f;<br>#{result[:content]}<br>&#x1f56f;</div>




    <div id="gitDate">Deteted on #{result[:date].strftime(`'%A %B %e %Y %H:%M:%S`')}</div>




  </body>




</html>




HTML


    

[

200

,

 

{

"Content-Type"

 

=>

 

"text/html"

},

 

[

formatted_result

]]


  

end




end





run

 

Memento

.

new